I recently "finished" building a pauper cube (quotations there because you're never really done with a cube) to use as both a formal draft set and as a quick simulated pack war or battle box. Pauper is cheaper to maintain, the cards were easier to find in random collection boxes, and there's no harm if a card goes missing or gets damaged. Plus, the format just showcases some really neat cards that would otherwise never get played once their respective booster draft formats ended.
Here's the cube list on CubeTutor. I started with a few sample cubes on there and added my own flavor.
With Unstable (amazing set!) here and the hype surrounding silver-bordered cards in EDH/Commander, I took some time to consider adding a few common cards from the wacky set to the cube. There's already one silver-bordered card in the cube – Carnivorous Death-Parrot – but it's only non-black bordered quality is that you have to read its flavor text aloud each turn; it is otherwise a normal 2/2 flyer for 1U (which is actually fairly powerful for a common – Welkin Tern is the go-to 2-drop flyer, which is only a 2/1 and can't block groundlings).
Unstable, while a silver-border set, doesn't really feel like a crazy off-the-wall Magic set. It drafts like a fun-oriented supplemental set like Conspiracy and is mostly fair cards that could be black-bordered if they didn't involve strange additional mechanics like having to hold the card in the air to give it flying or whisper a word to tap down a creature. These cards are good, fair cards and deserve to be considered for good, fair Magic formats like a Pauper Cube.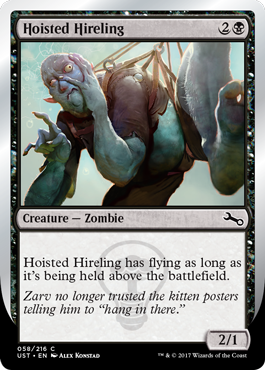 In the end, three cards made the cut – two cards that feel like normal picks and a zombie who's showing up late to the party with a new mechanic.