I recently "finished" building a pauper cube (quotations there because you're never really done with a cube) to use as both a formal draft set and as a quick simulated pack war or battle box. Pauper is cheaper to maintain, the cards were easier to find in random collection boxes, and there's no harm if a card goes missing or gets damaged. Plus, the format just showcases some really neat cards that would otherwise never get played once their respective booster draft formats ended.
Here's the cube list on CubeTutor. I started with a few sample cubes on there and added my own flavor.
With Unstable (amazing set!) here and the hype surrounding silver-bordered cards in EDH/Commander, I took some time to consider adding a few common cards from the wacky set to the cube. There's already one silver-bordered card in the cube – Carnivorous Death-Parrot – but it's only non-black bordered quality is that you have to read its flavor text aloud each turn; it is otherwise a normal 2/2 flyer for 1U (which is actually fairly powerful for a common – Welkin Tern is the go-to 2-drop flyer, which is only a 2/1 and can't block groundlings).
Unstable, while a silver-border set, doesn't really feel like a crazy off-the-wall Magic set. It drafts like a fun-oriented supplemental set like Conspiracy and is mostly fair cards that could be black-bordered if they didn't involve strange additional mechanics like having to hold the card in the air to give it flying or whisper a word to tap down a creature. These cards are good, fair cards and deserve to be considered for good, fair Magic formats like a Pauper Cube.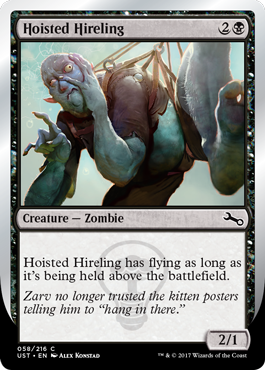 In the end, three cards made the cut – two cards that feel like normal picks and a zombie who's showing up late to the party with a new mechanic.
1. Painiac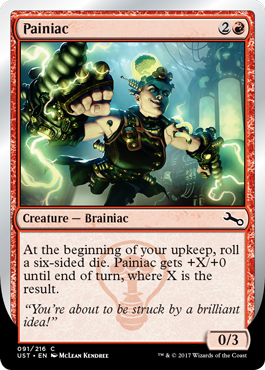 This one is almost a no-'painer' addition to the cube. It has one simple one pumping mechanic triggered at the beginning of you turn and fits a few different archetypes in the cube (the 3 toughness is good for defending in UR control, and it's ability to be a 6/3 on turn 4 is great in a BR or WR aggro build). The silver-bordered component is just the roll of a dice instead of a static/predictable effect. A little variance from the die isn't crazy, so this guy joins the team.
2. Ground Pounder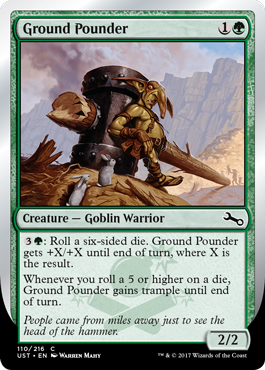 A. Is a 2/2 for 1G fair?  Yes.
B. Is a 2/2 for 1G that you can pump +1/+1 for 3G fair? A little overcosted ability, but yes.
C. Is a 2/2 for 1G that you can pump +6/+6 and give trample for 3G fair? Now the ability is way undercosted, but it could be a rare or mythic.
So how about combining B and C and making it an even shot at getting either (plus 2-5 in between)? Yep, card is fine. Get in the cube.
3. Extremely Slow Zombie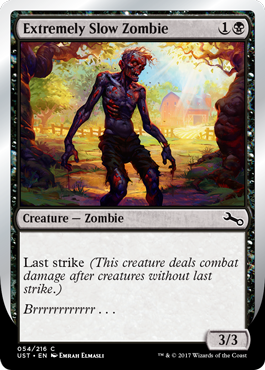 This guy is the weird one of the bunch. A 3/3 zombie for 1B is rare-level power if it has no drawback like forcing you to lose life each turn or sacrificing another creature when it enters play. Last strike is definitely a draw back, as this guy gets killed by pretty much any double-block assignment. I haven't tested this card yet, but in theory the drawback balances out the power level pretty well.
However, is Last Strike too weird to be in the cube on only one card? I say no. First, because there is reminder text for players to read who didn't draft Unstable. Second, Last Strike is a feasible black-border mechanic we could see in a future set. Double Strike was nuts when it first showed up, and Last Strike is quite worse than that.
Why Not Augment or Contraptions?
Augment and Hosts are not powerful enough to be a cube archetype, especially not more than a traditional Aura-based strategy. The Host cards are mostly fun-flavored versions of actual cards (ex. Wild Crocodile is just a Sylvan Ranger) so there's no need to change up what's already in the cube for those roles.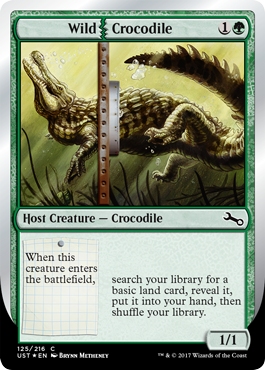 Contraptions also don't work in a cube like this because there aren't enough ways to assemble them to make them worth taking up space in the cube. There is certainly some fun and value in creating an Unstable-focused cube, but a Pauper Cube is not the place for them. You really need access to uncommons and rares to really assemble those Contraptions, and in a 450-card cube that is a ton of other awesome cards to throw out to be replaced by sub-par artifacts.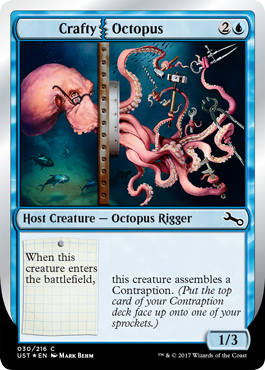 Testing 1…2…3…
I haven't tested these cards yet, although I would imagine that none of these are format-warping unless you're really lucky at rolling sixes. Follow my cube on Cube Tutor to see updates as each set comes out or archetypes develop – next stop, Rivals of Ixalan!